7th August 2023 InfoNOW News
Summer at InformationNOW
InformationNOW is available 24 hours a day 7 days a week for all your local information needs.
Over the Summer Lauren and Richard will be out of the office, but you can still log in to update your organisations details, email us your events and news, or leave us a comment on any page of the website.
Keep an eye on our Facebook, Twitter  or Instagram for what's going on and InfoNOW News will be still arriving in your inbox every 2 to 3 weeks over the holiday period.
Just in case you need any summer inspiration here's all our articles on summer activities, places to visit and tips on keeping cool.
---
New Bereavement cafe group
St Oswald's Hospice in Gosforth are starting one on Monday, 17th July, between 10am-12pm and every two weeks from this date
See the Bereavement café group events on InformationNOW
Grief is unique to everyone but sharing your story with people who have experienced the death of a loved one too can help you better understand your own journey.
This summer, there will be a fortnightly bereavement café where anyone grieving can drop in for as long as you want, meet others in a similar situation, and share how they are feeling over a cuppa and a biscuit – or two. A member of the bereavement team will be there to welcome you and provide additional support should you need it.
Meet new friends who understand how you are feeling

Gain knowledge and advice to better understand your own complex emotions

No need to book but for more information contact;
☎ phone: 0191 2850063 or email: enquiries@stoswaldsuk.org
Read more about Bereavement and grief support on InformationNOW
---
Talk to Citizens Advice Newcastle in your community
Citizens Advice Newcastle (CAN) give free, confidential and independent advice to people who live, work or study in Newcastle. You can speak to an advisor by phone, webchat, email or complete a form on their website to self-refer. For urgent matters you can drop in for advice (subject to availability) from Monday to Friday, 10am to 12pm. They offer advice on a range of issues including:
They run regular advice and information sessions in the community
Talk to Citizens Advice at your local Yorkshire Building Society.  Book a FREE and confidential appointment at your Newcastle branch on 0191 2830297
Mondays: Action for Children at Galafield Centre Drop in 9am to 12pm
Tuesdays: Action for Children,The Haven, Halewood Ave, Kenton, Newcastle upon Tyne, NE3 3RX. Drop in 10am to 12pm
Wednesdays: Action for Children, Wesley House, Bond Street, Newcastle upon Tyne, NE4 8BA by appointment Wednesdays 10am until 1pm
Thursdays: St Vincent Support Centre, drop in Thursdays 12.30pm to 3.30pm
Thursdays: City of God Christian Centre, 25 Church Walk, Walker, Newcastle upon Tyne, NE6 3DP drop in 11am to 1.30 pm
---
Workers Education Association (WEA) Summer courses
Workers' Educational Association (WEA) have launched their adult learning summer courses. Grow and develop your skills, pursue new career paths, discover important job hunting tips and ace interviews.
Find out more about what's on and their  September programmes on their website here
Read more on InformationNOW about Adult learning, skills and training 
---
Monumental Structures Novum
Novum is a new summer festival for Newcastle.  runs August 11 to 13 with art, music, performances and installations.
This multi artform event will showcase local, national, and international talent, to transform NewcastleCivic Centre and surrounding area into a cultural playground, where you can make, explore and engage with art and media. You can join sessions from local organisations such as Northern Print, Tyne & Wear Archives and museums, New Writing North
At the heart of Novum festival is the Monumental Construction. This is a temporary, recyclable, celebratory monument to the city created with local communities, designed by French artist Olivier Grossetête. You can still join a monumental structure group to build structures on 7 August, install the monuments on 11 August, or to deconstruct the monuments on 13 August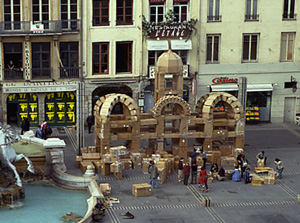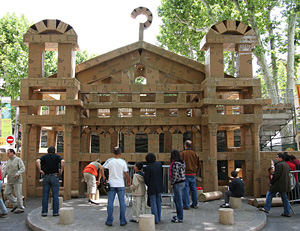 You can view free Novum events here
You can view the full programme of Novum events here
Read more on InformationNOW about Novum Festival and workshops
---
Steam to Green
Deadline 10 September 2023
Discovery Museum are seeking people who live in Tyneside who use an electric car, have solar panels on their home, or have an air source heat pump installed, to feature in the museum's new exhibition Steam to Green
The exhibition will highlight the latest innovations in green renewable energy including ground-breaking research taking place in the North East. It will also showcase science and engineering objects that provided energy for societies in the past. The objects are from the museums' historical collections, including some that have not been on display for many years!
Steam to Green will also include a family events programme, schools learning programme and adult after-hours events.
If you're interested in sharing your story then please get in touch – at history@twmuseums.org.uk by 10 September 2023.
Read more on InformationNOW about Discovery Museum
---
Carers into work
The North of Tyne Carers into Work scheme supports unpaid carers from the age of 16 to achieve their goals – whether these are finding or remaining in education, understanding your rights at work, accessing education, training, and/or volunteering. The scheme has been extended until March 2024.
Advisors support carers and help them to manage work and care, remain in work, find a new job, or access training or education. They offer telephone, online, and face to face appointments that are flexible to meet the needs of each carer.
You can watch a video about the scheme from the 3 partner organisations involved (Newcastle carers, Northumberland carers, North Tyneside carers) on Youtube here
You can read the Newcastle carers into work leaflet here
You can find more information about the Newcastle Carers into work scheme on their website here: Return to Work – Newcastle Carers
Read more on InformationNOW about Looking after someone while in employment
---
Library English learner groups
Newcastle Libraries have new dates for reading groups for English Learners or those who wish to improve their literacy.
The groups read aloud to help improve confidence, pronunciation and to enjoy a good story! To join people do not need to register they can choose a group that is convenient and just turn up
City Library
Fortnightly, Wednesdays, 12pm from 16 August to 20 December 2023
Gosforth Library
Fortnightly, Tuesdays, 10 to 11am from 8 August to 12 December
St Vincent's, East End
Fortnightly, Mondays 3 to 4pm from 7 August to 18 September
For more information contact readinggroups@newcastle.gov.uk 
Read more on InformationNOW about English reading group and ESOL lessons 
---
Elders Council Role
Following the retirement of Barbara Douglas, and recent promotion of Clare Levi to Executive Officer, Elders Council are now looking for an experienced and enthusiastic person to take on the role of Development Worker.
The community development worker role is an opportunity to lead and develop new and existing projects to empower and improve the lives of those aged 55+ in the city..
If you are interested in applying for this role then please read the job description, and how to apply, on the following link.
Job application criteria and details on VONNE here
Read more on InformationNOW about The Elders council
---
Pre-settled EU Status update
From September 2023 people with pre-settled status under the European Union (EU) Settlement Scheme will automatically have their status extended by 2 years before it expires if they have not obtained settled status.
Further details on pre-settled status can be found on the GOV.UK Website 
Citizens Advice have helpful advice on settled and pre-settled European Union status, what this means and what you need to know here
Read more on InformationNOW about Visas and immigration
---
Crowdfund North of Tyne
Got an idea to bring a local place to life? 
Crowdfund North of Tyne is an initiative to help you crowdfund projects to improve your area. They could pledge up to £5,000 towards your crowdfunding campaign on Spacehive.
Project groups will need to meet one or more of the following criteria to pitch to the main fund:
bring people together in new ways
support people's wellbeing and mental health – especially outdoors
inspire creativity and opportunity for all – including promoting lifelong learning
The funding is split between organisations or constituted groups and individuals or non-constituted groups
North of Tyne Combined Authority uses Spacehive to help you create, fund and deliver your project idea. You can find out more on the site
or Download the poster here
Read more on InformationNOW about North Of Tyne Combined Authority
---
ICB Joint Forward Plan consultation
Since the publication of the Integrated Care Strategy, 'Better Health and Wellbeing for All', in December 2022, the ICB has been working closely with partner organisations to produce the Joint Forward Plan.
They have engaged with system partners to create the Integrated Care Strategy, and are seeking feedback and views on the Joint Forward Plan to deliver the ambitions agreed. You can view the draft plan here and feedback and comments are welcome by email no later than 31 August 2023.
Contact: necsu.icbplanning@nhs.net. Once all feedback is received the plan will be published in September. The ICB will also continue to review and update the Joint Forward Plan each year and will publish a revised version every March in line with the national guidance.
Read more on InformationNOW about Integrated care systems
---
RE:geon Community Workshop Launch Event
Thursday 17 August 2023, Shiremoor Community Association, NE27 0PW.
10am to 2pm
RE:Geon have launched a range of new workshops and are hosting a Community event to promote the opportunities being delivered across the North of Tyne as well as our qualification and employment opportunities.
The workshops cover a range of topics including:
health and wellness,
environmental awareness
construction skills, including practical woodwork
sowing and growing plants
green jobs in construction
They are looking to invite all community partners and local organisations to share the opportunities for your service users as well as some workshops that are relevant to providers, These workshops cover a lot of self-development / CPD.
At the event you will get a chance to meet their team who will be hosting their own stalls, experience taster sessions of some of the workshops, have your input as to what type of work shops you feel is needed in the community  and an opportunity to network with other local providers.
Book a Place:
If you are interested in attending the event you can book a place on EventBrite here
Read more on InformationNOW about Community Centres
---
Operation Payback fund
The Operation Payback fund allows for communities, social enterprises, community groups, charities and schools to bid for a micro grant of up to £1,000 or a larger grant up to £5,000.
They are on the look out for projects that
Repair the harm caused by anti social behaviour and keep people safe.
Prevent/reduce youth or adult anti social behaviour.
Provide diversionary activities throughout the year including school holidays.
The fund will close on 11th August 2023. Decisions are expected by the end of September.
Information and guidance about the fund can be found via Northumbria Police website here:
Read more on InformationNOW about Northumbria Police
---
Black Womens Experience of Antenatal Care
A Newcastle university study aims to explore and understand the antenatal care experiences of Black women with pre-existing medical complications such as hypertension and diabetes.
The study is open to Black women (aged 18+) with pre-existing medical complications living in the North-East of England who have received antenatal care within the last 5 years
The study will involve:
One-off 60-minute interview.
Share your thoughts, experiences, and suggestions in a safe and supportive environment.
Your participation is voluntary, and you can withdraw at any time.
Participants will be given a £25 Amazon voucher as a thank you for their time.
If you are interested or would like more information you can view the leaflet here
or contact Asma'u Aremu at  A.G.Aremu2@newcastle.ac.uk
Read more on InformationNOW about Having your say about health and care services
---
Become Green Together
Deadline 30th September
Community Foundation Tyne & Wear and Northumberland, VONNE and the Going Green Together project have partnered together to create bursary schemes supporting organisations through the Become Green Together programme by covering part or all of their training costs.
Become Green Together is a program to help VCSE organisations to build and deliver their strategy in tackling the climate crisis, starting with making their own organisations more environmentally sustainable, calculating and reducing their carbon footprint. They help set practical targets and create policies which work for the organisation, and  progress through accreditation with Investors in the Environment.
They are particularly interested in applications from those with community buildings and spaces.
You can read more about the bursary scheme here
Anyone interested and who would benefit from a bursary can get in touch with the project coordinator at Nathaniel.Spain@vonne.org.uk.
Read more on InformationNOW about recycling and sustainability
---
Process Study
Are you a smoker or recent ex smoker? The process study research team are looking to  talk to ex-smokers (quit in the last 12 months) and current smokers from across the UK about stop smoking services (whether you have or haven't used one). Everyone who takes part will get a £25 shopping voucher.
You can read more about the Process Study and take part using the link here
or call them on 07977 273341 or email process.study@nottingham.ac.uk to register your interest.
Read more on InformationNOW about Help giving up smoking 
---
Catch 22 Creative academy
Catch22's 'TikTok Creative Academy' empowers 18–24-year-olds for careers in the creative industries such as TV/Film, Music, Games design, Graphics, Photography, Social Media.
They are aiming to support over 2,500 young people who are not in education, employment or training to get closer to a creative job by 2024.
They have a 4-week pre-employability program which equips participants for creative careers. Accessed from home, sessions run three days a week, 10am to 3pm, for flexibility. 18 to 24 year olds who are not in full time work or education with the right to work are eligible.
Those taking part can access the following support:
technical qualifications and achieving accreditation, as well as online courses,
a career coach who will guide each participant to identify their goals and complete a bespoke action plan to reach them; TikTok employees will provide advice and coaching at peer-led workshops,
access to opportunities to further build their industry specific skills such as virtual work experience, jobs fairs, mentoring and networking events,
wider support on mental health or housing issues, and
access to a bursary which will support participants as they go through the programme, as well as a laptop loan scheme, developed to tackle digital exclusion.
You can find out more about the program and see frequently asked questions on their website here:
You can refer yourself or someone else or ask for more information on the programme by emailing: meghan.dyer@catch-22.org.uk . If you work with young people and would like to discuss an information group sessions to support them to be onboarded for your specific site please also get in touch.
Read more on InformationNOW about Support to prepare for work or a job 
---
Summer on Newcastle Support Directory
Our Children's information partner Newcastle support directory have the most up to date information on childrens and family activities, events  offers and more available this summer. You can see whats on here.
Dont forget to check out the Newcastle Best Summer Ever Holiday Activities and Food programme here.
Read more on InformationNOW about Newcastle's Best Holiday Ever programme
---
Brunswick club talks
Brunswick Club have released their new programme of guest talks for the remainder of 2023. There are a wide range of topics from local history, travel, football to language.
Upcoming September talks:
5 September:  Prof Neville Harris, John Mortimer and Rumpole of the Bailey
12 September: John Gibson, The Tirpitz – The Lonely Queen of the North
19 September: Ron Hindmarch, Forensic Investigations
26 September:  Brian Burr, The Musicals of Stephen Schwartz
You can download the Brunswick club 2023 programme here
Read more on InformationNOW about Brunswick Methodist church & The Brunswick club
---
Jesmond Library 10 years celebration
16 & 17 September at Jesmond Library
Jesmond Library are celebrating 10 years as a community volunteer managed library in September with a range of events.
On Saturday 16 September you can come dance the Ceilidh
On Sunday 17 September 10am to 6pm there is a 10th anniversary book festival with featured authors, a bookstall and bar.
They are also seeking a 'writer in residence' for 6 months to mark the occasion. The writer will work with as many residents of Jesmond as possible, as well as creating their own work, to produce a publication celebrating Jesmond Library. If you or someone you know are interested you can find out application criteria and details here
Read more on InformationNOW about Jesmond Library
---
Search Newcastle Pop In centre
11 August 2023, 40 Adelaide terrace, Benwell, NE4 8BL
Search Newcastle is opening its pop in centre to the general public on 14 August 2023, but they are holding a 'sneak peak' open day for professionals on 11 August.
Search have many activities running in Newcastle you can find on our events and activities calendar
Read more on InformationNOW about Search Newcastle
---
CQC Survey on urgent and emergency care
The Care Quality Commision (CQC) have published a national survey of more than 36,000 people who used NHS urgent and emergency care services. It shows that many people had a worse experience than in previous years – particularly those treated in an A&E type department. However many people in urgent treatment centres felt they could discuss concerns with staff and were listened to.
You can read the overview of the results here 
You can read more from the survey here 
Read more on InformationNOW about CQC
---
The Community Organisations Cost of Living Fund
The National Lottery Community Fund is now open for applications from organisation who are helping vulnerable people. You can apply for grants worth between £10,000 and £75,000 to cover project and core costs, including office rent, utilities, staff and volunteers, from now until the end of March.
If you need £10,000 or less you could try the National Lottery Awards for All fund.
Read more on Charity news on gov.uk 
---
Free asylum seekers and refugees practitioner training 
The International Rescue Committee (IRC) is offering free training called 'Healing Spaces' this summer.  It is designed to help agencies consider a trauma-informed approach to working with refugees and asylum seekers, including unaccompanied asylum seeking children.
To contact IRC see Healing Spaces Training | International Rescue Committee (IRC)
See the flyer for more information
Read more on InformationNOW about  support for asylum seekers and refugees
---
Cycle to work day
Cycle to work day was 4th August. If you are a PAYE employee you could benefit from the government backed cycle to work scheme The  scheme helps you save money on a new bike and spread the cost of the bike over monthly tax-free instalments through your employer. This article from SusTrans helps explain how the scheme works.
Providers such as Cyclescheme and  Green Commute Initiative can support employees and employers to sign up to the scheme.
Read more on InformationNOW about Fitness Activities
---
Baltic Free events
BALTIC Centre for Contemporary Art  has some great free events this summer.
You can get out and about with the Baltic team to learn more about the quaysides history by joining them on a heritage walk
Quayside heritage tour walks here
Or you can join them for a walk to explore the natural landscape and plants of Newcastle
Down on your Doorstep Tickets,
On Friday 1 September 2023 10am to 6pm, they are holding the 3rd of a series of summer swap and share community events.
These events are for us all to swap & share the things we would like to pass on to others. This Swap & Share is all about school:
Swap and share Get ready for school event here
Read more on InformationNOW about Free things to do in Newcastle
---
Knit and natter
Newcastle Libraries welcomes you to be a part of their Knit and Crochet network.
Join a knit and natter group.  Everyone is welcome and we have supplies you can use.
Volunteer to lead a library knitting group. Share your skills and get people chatting as we knit and crochet items for charity. (Email: information@newcastle.gov.uk if you'd like to help, please note* don't Email informationnow@newcastle.gov.uk)
You can donate yarn and needles to a good cause. Drop-off at any Newcastle Libraries branch.
They host the following sessions at Newcastle Libraries:
City Library
Crochet Club on Mondays, 10.30am to 12pm
Knit and Natter on Wednesdays, 11am to 1pm
Cruddas Park Library (8+) (looking for volunteers to lead)
Knitting Club on Saturday's, 11am to 1pm
East End Library
Knit and Natter on Thursdays, 11am to12pm
Fenham Library
Knit and Natter on Fridays, 1 to 3pm
High Heaton Library
Canny Crafters on Tuesdays 11am to 12pm
Newburn Library
Knit and Natter fortnightly on Mondays, 10.30am to 12.30pm 
They are looking to start the groups below. If you'd like to help or lead a group, get in touch:
Blakelaw Library  Knit and Natter on Thursdays, 1 to 3pm
Denton Burn Library Knit and Natter on Thursdays, 1.30 to 3.30pm
Gosforth Library Knit and Natter on Wednesdays, 11am to 1pm
Read more on InformationNOW about Hobbies
---
Newcastle Active Through Football: Park football
Newcastle United Foundation's Active Through Football aims to increase physical activity levels amongst people aged 16-29 who face the greatest barriers in becoming physically active. They host weekly free wellbeing and fitness activities:
They have added some new summer football in the park sessions in partnership with Urban Green open to all:
Walker Park  weekly on Tuesdays, 6 to 7pm
Harbottle Park weekly on Wednesdays, 6 to 7pm
Fossway Recreational Ground weekly on Thursdays 6 to 7pm
Read more on InformationNOW about Fitness Activities
---
New dates for August: Badminton for refugees and asylum seekers
Welcome to Badminton run free sessions on Sundays 5pm to 7pm at Northumbria Sports Central. The dates for the next sessions are:
Read more on InformationNOW about Support for Asylum Seekers and Refugees
---
The Bread and Butter Thing (Benwell)
New food club
The Bread and Butter Thing (Benwell) is an affordable mobile food club. They offer low cost weekly shopping bags. It's cheaper than buying food in shops. The bags contain fruit and vegetables, fridge favourites and cupboard staples. It's free to become a member. They accept Healthy Start vouchers and vegetarian options are available.
The food bags change each day.  this means  you won't save the same amount of money each time. You will get new foods to try and the cost of the bag may be reduced if they have less food available.
To get a food bag you must:
Book your food club order before 10am on Mondays
Text 07860 063304 with your full name, postcode and the where you'll be collecting from – BENWELL or visit the members section of the website
Select the size of your food bag (vegetarian options are available):  Individual is £5, Family is £8.50, Large Family is £17
You'll be sent a text every Sunday to confirm if you would like to place an order the next week. Reply 'YES' by 10am Monday to secure your shopping.
Collect and pay for your goods from Merton Lodge in Benwell at 2:30pm Tuesday. (someone can collect on your behalf and they accept Healthy Start Vouchers)
Read more on InformationNOW about Free meals and cheap food in Newcastle
---
Ojika Dojo
Ojika Dojo is a group where you can learn traditional and modern Japanese Sword Arts in Newcastle upon Tyne. You can join the group to train in a range of Arts such as:
Kendo is fast, noisy and active
All sessions are lead by qualified, DBS checked coaches. There is a cost to attend the training sessions.
£25 per month (for one session per week), £40 per month (for more than one session per week), or £7 per session. There is also a membership fee to join the British Kendo Association membership . Student discounts are available. Contact them for more information.
Read more on InformationNOW about Fitness Activities
---
Independent Age
Updated organisation
Independent Age provide help and support services for older people. They have:
a national telephone helpline for advice on care, benefits, getting help at home and adapting your home. They can arrange a follow up appointment for more detailed discussions
telephone friendship groups to help you connect with new friends and to learn more issues that matter to you. This is aimed at people who aren't online or can't get out and about in
volunteer opportunities
information and advice guides on a range of topics such as staying connected, grief and being independent
campaign on older people's issues
Read more on InformationNOW about Feeling lonely?
---
Staying safe online
Read for more information about online crime, how to spot it and what to do if you're targeted. Updated with advice to stay safe with new generative artificial intelligence scams.
Read more on InformationNOW about Cyber crime, online fraud and scams 
---
Advocacy support to get your voice heard
Advocacy is free, independent support to help you to get your voice heard. Updated with new advocacy services
Read more on InformationNOW about Advocacy support to get your voice heard
---
Thanks for reading InfoNOW News
We hope you found it useful. Please feel free to share this information and subscribe to InfoNOW News
Want to be featured in the next InfoNOW News? Send us your news and events.
Best Wishes
Lauren and Richard
Last updated: August 9, 2023